June 9th, 2021
Georgian Bay
It's known within Canada as the sixth Great Lake. Abroad, mention Georgian Bay and boaters will tell you that they've heard tell it's the best freshwater cruising grounds in the entire world. Here at home the talk has been about low water levels and while that has been an issue, the water levels are back up, buoys have been repositioned and the boating is exceptional!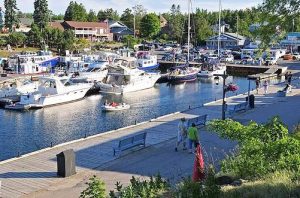 Both Huron and Ojibwa native legends past down through the generations suggests that the 30,000 islands that this area is famous for, were formed when Kitchikewana – a giant wendigo (spirit) – had his heart broken when Wanakita turned down his marriage proposal. He tore up the bottom of the bay with his bare hands and in anger, flung the mud and stones at the departing canoe of his true love. The isolated bays and anchorages we know today were formed when all that mud and rock finally came to rest, and over time, have been carved out by the wind and waves. While I'm not sure if it's true or not, I do know that the legend makes a much more compelling campfire story than explaining how at the end of the ice age, the ice retreated and carved out the landscape.
Amongst the 30,000 islands that make this watery playground a boaters dream come true, you could spend a weekend in every one of the different anchorages for a lifetime and still not see them all. In the process however you'd no doubt find a few of your favourites, just as we have. Lost Bay, Indian Harbour, the Bad River, Twelve Mile Bay, Wreck Island or the Moon River all bring back memories of a busy summer's day chock full of fun, and relaxing evenings of stargazing from the bow.
Starting at the bottom of Georgian Bay in either Midland or Penetandguishene, you can cruise west up the eastern shore of the Bruce Peninsula in relatively open water but protected from the prevailing westerly winds. Marina hop as you visit such towns as Wasaga Beach, Thornbury, Collingwood, Owen Sound, Wiarton and Tobermory. The Fathom Five Provincial park at Tobermory is a divers dream with the many wrecks being very well preserved by the cold fresh water. Or tuck into Colpoy's Bay, Melville Sound or Isthmus Bay and swing on the hook. Don't miss the miles of sandy beaches at Wasaga Beach, Giant's Tomb (Kitchikewana's final resting place – hence the hump in the islands geography) or Awenda Provincial Park.
Heading up the east side of the bay from Midland, Beausoleil Island is home to the Georgian Bay Islands National Park and a fabulous summer playground for boaters. Beausoleil is the largest of the 59 islands marked in grey on the charts that comprise the Georgian Bay Islands National Park. With a multitude of anchorages and docks with shore based campsites, everyone can enjoy the hiking trails, beaches and swimming no matter how large or small your boat is.
A few nautical miles to the east lies the small towns of Victoria Harbour and Port McNicoll and the deep water port of the former CP Railway where the S.S. Keewatin is now moored and open for daily tours in season.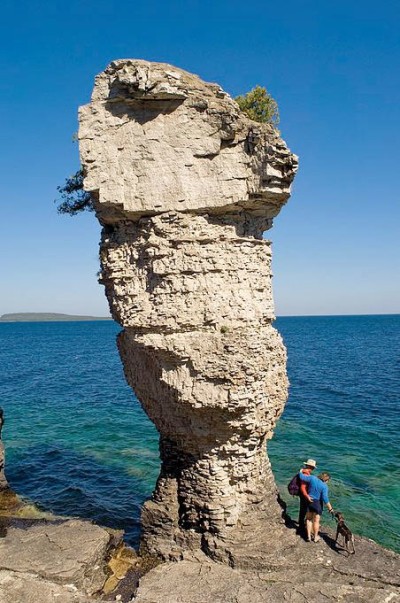 Continuing north up the Small Craft Route you'll pass through Honey Harbour. This is perhaps some of the busiest water in Canada each weekend, but many still take time out to boat over to the outdoor Cognashene Community Church on the rocks in the Freddy Channel for an interdenominational Sunday service.
Your next community north is Sans Souci (don't forget to stop for ice cream at the store or fresh pickerel dinner at Henry's) and to the east lies the Massassauga Provincial Park with hundreds of anchorages to disappear into for a week at least. Take a scoot up the Moon River in your dinghy and drop a line to catch one of the huge variety of fish you'll find below the surface.
Just past Amanda Island, head west up the Long Sault and Wabauno Channels, or enter the South Channel and soon reach the town of Parry Sound. Several marinas are within walking distance of a great little town with everything you need to re-provision for the next leg of your journey.
Just west lies Killbear Provincial Park and a huge horseshoe shaped beach around the popular anchorage that's a family favourite – perhaps because of the jumping rocks at Harold's Point. Further north you'll cruise into Shebeshekong Channel and the Shawanaga Inlet enroute to Pointe au Baril where it's worth it to tour the lighthouse and pick up some fresh baking from Madeline. Docking is available to take a few photos around the big anchor, or cruise into the inlet that leads to a series of small bays, coves and islands. Four marinas are located throughout this area that mainly service cottage boaters.
A little further north, at the end of Byng Inlet, lies the town of Britt, The town features three restaurants, two grocery-and more stores, and an LCBO/Beer Store. Both marinas welcome transient boaters, and one has three trained service mechanics (in case you've found a rock or two with your prop while gunk-holing). There are even convenient campsites along the shoreline. If you're into fishing, arrangements for guiding services for pike, bass, walleye are available as well. If looking for your own private paradise, several places are available to set up anchorages to just relax for a day or more.
Now you're really starting to get into an adventure and slip away into some very secluded and stunning beautiful anchorages – Black Bay, The Bustard Islands, The Bad River Channel – so make sure your tanks are full of gas as you head out. Entering Beaverstone Bay and cruising down the Philip Edward Island Channel you'll be in the shadow of the LaCloche Mountains (that's white rock not snow on top) enroute to the most northerly town on the bay Killarney.
Much of this area is uninhabited Crown land islands (remember to respect the rights of private landowners – and with this much choice that should never be a problem). Once you've anchored your boat, the opportunities to explore by dinghy, canoe or kayak are nearly limitless and the wildlife you'll see as you quietly poke around the corner and duck into the next bay is stunning so keep your camera ready.
Killarney is an amazing and friendly town with services, restaurants and accommodations in case you want to get off the boat. The provincial park is nearby and a stop in Killarney wouldn't be complete without a visit to the famous Herbert Fisheries chip truck next to the LCBO for some incredible fresh or smoked Georgian Bay fish.
Georgian Bay is a boaters dream – at once breathtakingly beautiful and challenging to navigate – you'll need your charts to stay on course and to gunkhole into a new unmarked cove that you just might have all to yourself. Feel free to name it as your own and come back again next summer.
~ Brad Roberts
There are festivals and events nearly every weekend, so check out the websites of the area you're planning to visit and include some time ashore in your plans.